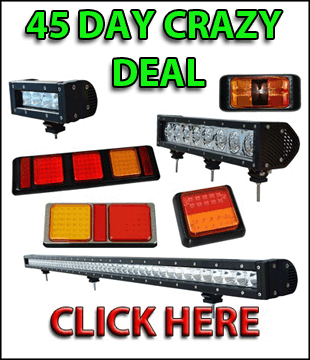 CLICK ABOVE IMAGE TO SEE OUR CRAZIEST DEALS YET
View our Online Catalogue Here
Welcome to the home of BRIGHT LIGHT AUTO PARTS. We are one of the main suppliers to the trade of high quality automotive products such as LED trailer lights, LED Light Bars, LED globe replacements, HID Kits and parts, standard workshop globes, super white halogen globes, LEDS for all automotive applications, Keyless entry kits, led torches, Wide range of spot and fog lights, Revolving and strobe lamps, etc . We offer something for everyone with a range that is always expanding.
All Prices on this Web site are in Australian Dollars and include GST, all goods dispatched come with a Tax invoice.

Become a member now and receive emails with the latest products and specials!
Web Site Offer:
Free Delivery Anywhere In Australia For Purchases Over $150.00 From This Web Site.
(Excluding 45 Day Deals)
(Australian Residencts Only. Select E-Parcel On Checkout For Free P&H Offer and get an email when dispatched with online tracking


Open Hours: Mon - Fri 9am - 5pm and Sat 10am - 2pm

PH: 03-9758-1122 Fax: 03-9758-1151
Factory 1A/981 Mountain Hwy
Boronia
VIC 3155



Marker/Clearance Lights for
Trucks/Caravans

LED Trailer Lights


Headlight Parts


Wide Range of LED
Torches

Wide Range of LED Lights


Wide Range of LED Globe
Replacements

Driving Lights


LED Worklamps


Brite LED Tech Lamp Range

We Accept

Brand New Range of LED Driving Lights available for Pre-Order now!
Click to watch episode 8
with Bright Light Auto Parts
Brite Led Tech Pty Ltd New Light Bars including a new combo range offers Aluminium alloy die cast
body, polycarbonate lens, 10-30v M/Volt meaning can be used on either 12v or 24v applications, and
come in mix of flood and pencil lens patterns, all come with 900mm wire, Brite Led Tech manufacture a
wide range of high powered LED light bars, more and more seen on the 4wd scene all using the latest
technology in 3w LEDs offering now 240Lm / 3w led being due to the latest air intake design keeping
the circuitry cooler enabling 20% more from each led, all bars designed using 3M waterproofing
structure making them now IP68 Rated meaning ideal for 4wd or Boats and now available in white or
black body styles.
New Combo designs as seen here can come in the 40, 60, 80 or 100 light bar body and be fitted internally with indicators for forward facing or for rear facing have a stop/tail and indicator all with a high powered light bar white leds in the middle and can be built to your requirements, also can use with our new pole mounts or 1" to 3" tube and also suit Rhino roof racks, available for single light bar mounting or even 2 or 3 light bars ensuring you never run out of light, click here
Become a Member and get our Monthly Newsletter which has all the latest info on new products and specials we offer!!


BA15D 54 LED anchor light globe
replacement and 2 interior BL-105W
lamps



Above shown is a BRITE LED TECH
surface mounted BL-103CWM courtesy
lamps 1 in each corner, fully submersable
making them ideal for in boats to light up
floor area


BL-105W LED Lamp with switch,
super bright 120 degree beam angle and
ideal for in boats